It's Friday, which means a colorful parade of fun here on the Power Poppy Blog! It's a time when WE see the creativity that flowed all the way through your fingertips to make a Power Poppy inspired card or creation!
HERE'S HOW TO PLAY IN OUR PEEP OF THE WEEK CHALLENGE:
All you need to do to get in the running for the Power Poppy Peep of the Week is use the linky below and share a new Power Poppy creation. Just that simple! It can be anything — a card, an altered item, a 3D creation, a set of cards, ANYTHING! We can't tell you how much we love to see what you create!
OFFICIAL RULES:
Use Power Poppy Stamps on your creation!
Link up your creation using the Linky below (It helps us to find you! Although it's not a necessity to win. We scour creations all over the web!).
Could you please mention the Peep of the Week challenge in your blog or gallery post with a link back to this blog post? We would sure love it if you did!
We'll accept entries up until Thursday @3PM EST and will announce the Power Peeps of the Week next Friday for our Peep of the Week post.
Every link counts as one entry in our monthly drawing for a FREE STAMP SET OF CHOICE!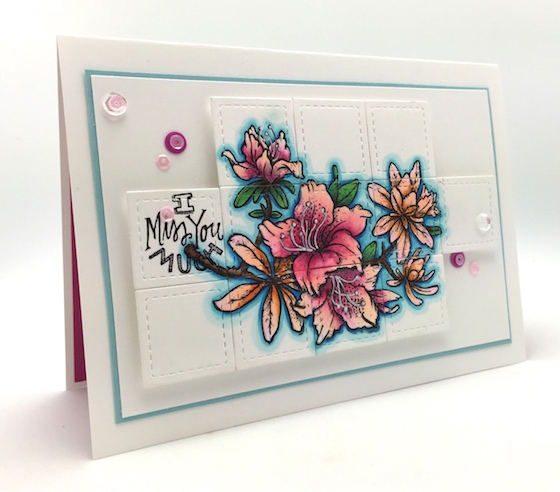 This creation was posted a few weeks back in the blogosphere, but it's one we just spotted on the web and it was just so fabulous! We just had to show it off here and give
Kathy over at The Daily Marker
a shout. The way she colored the branch from
Power Poppy's Azalea
set is truly a show stopper! I also love the window pane effect she created with that super fun die and who doesn't love a splash of sparkle with a sequin or seven! ;-)
OoooOOOoo, the graphic feel of this black, white, and red beauty by
Brenda Turner
is almost too perfect! She inked up (and colored so fabulously) Power Poppy's stamp set
Dynamic Duos: Glads and Gerberas
. Gorgeous stuff, Brenda!
The good news is these fabulous creations will make their way onto our customer wall of fame over on the
Power Poppy Peep of the Week Board over on Pinterest!
How can
YOU
end up being honored in this way? Simply show us your card making style using
Power Poppy Stamps
and then link up your creation below! And, if you're a Peep of the Week Winner and would like our
POWER POPPY PEEP OF THE WEEK BLOG BUTTON
to "wear" on your blog with pride? Simply email us at bloom@powerpoppy.com and we'll send that button right to you!
As we make our way to the weekend, pop on over and take a peek at what these BLOOMIES whipped up this week!
Leslie Miller
Stacy Morgan
Tosha Leyendekker
Thanks everyone for stopping by! Make sure to
MARK YOUR CALENDAR!
Our sneaky peeks for our February Release start next TUESDAY with FIVE, yes FIVE new stamp sets that are simply irresistible!
The sneaks start January 27th
and wrap with a grand ole Power Poppy Hop on the 1st. It's going to be a fun week "Peeps!" So, stop on by and see what we have in store!
Also, Fridays are about to get even more fun!! Stay tuned for some fresh ideas that are sure to kick off your weekend with a super fun dose of creative inspiration!